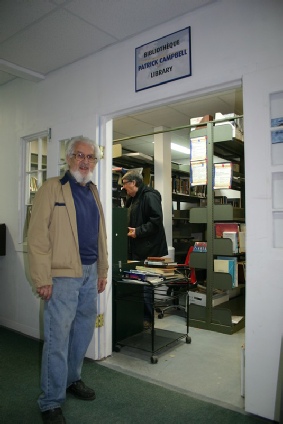 The Patrick Campbell Library and Archives
The library and archives are named after Patrick Campbell. A longstanding and pivotal volunteer at the museum, he was a major architect of its growth and evolution. Patrick was also instrumental in creating the library and facilitating the donation of notable collections.
The Montreal Aviation Museum contains an extensive bilingual reference library and archives. Its primary focus is the rich aviation and aerospace heritage of Canada, particularly Quebec. It also places emphasis on technical subject matter and women in aviation. Our library includes more than 7,000 books as well as technical manuals, periodicals, drawings, audio-visual materials, and other relevant artifacts.
The books, which represent the core of the library, are recorded in a comprehensive online database that facilitates searching for reference purposes.
The library and archives continue to grow and evolve due to the generosity of the many donors who have contributed valuable documents since its inception. This process is ongoing and we continue to add reference materials, some of which would otherwise be lost to posterity.