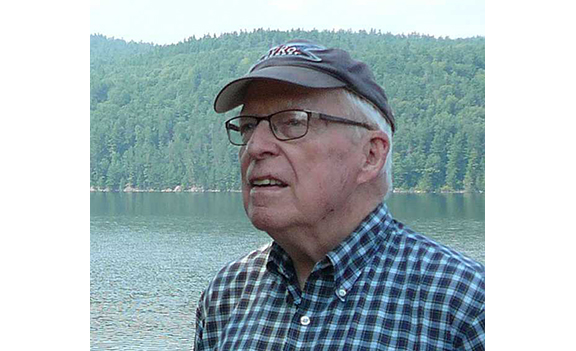 George Alexander Fuller was born in Sherbrooke, Quebec in 1927, the son of Lieut. G.S.B. Fuller, a veteran of the Royal Flying Corps during the First World War, and of Sadie Rose Mennie, a registered nurse. After attending Sherbrooke High School and completing his senior matriculation at Bishop's University in Lennoxville, Québec, he earned a B.Sc. degree from Sir George Williams University (now Concordia University) in Montréal.
George grew up with more than the average interest in aviation. He carried on the family tradition during the Second World War by joining the Air Cadets, and took summer jobs at Canadian Vickers and Avro Canada. He served in the RCAF Auxiliary from 1952 to 1958 after his career took him into business with the Noranda organization in 1951.
Since then his enthusiasm for aviation has been directed towards researching the neglected early history of flight in Canada from the time of the first balloon ascensions while enjoying every opportunity to fly and, in his words, "to look down on this wonderful country." All of his work has been informed by his interest in how geography and the railroads in particular have contributed to the development of aviation in Canada. With John Griffin and Ken Molson, George co-authored the frequently cited book 125 Years of Canadian Aeronautics: A Chronology, 1840–1965, published in 1983 by the Canadian Aviation Historical Society (CAHS).
He has contributed numerous articles to the CAHS Journal, is a former director of the Society, and a founding member of the Montréal Chapter. George has presented papers at annual conventions of both the CAHS and the U.S.-based Northeast Aero Historians. Closer to home, he has given well over a hundred short monthly talks to the CAHS Montréal Chapter under the title "Downwind."
George has been an honorary member and advisor to the Montreal Aviation Museum since 1998 when it was founded as the Canadian Aviation Heritage Centre. He is a former member of Fondation Aérovision Québec, and served on the selection committee for the Panthéon de l'air et de l'espace (Québec Aviation Hall of Fame) from 2001 to 2010.
Widely recognized as an eminent historian of early Québec aviation, George is often consulted by fellow experts, and draws on more than 60 years' experience to advise and encourage a younger generation of aviation history researchers.