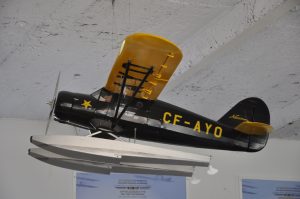 The Noorduyn Norseman is a Canadian utility transport aircraft designed by Robert B.C. Noorduyn in Montreal. Optimized for use in remote areas with no infrastructure, it was adopted by several armed forces during and after World War II. 904 examples were built between 1935 and 1954, used in 68 countries.
The Norseman is a Canadian single-engine bush plane designed to operate from unimproved surfaces. Distinctive stubby landing gear protrusions from the lower fuselage make it easily recognizable.
Introduced in 1935, the Norseman remained in production for almost 25 years with over 900 produced. A number of examples remain in commercial and private use to this day. Norseman aircraft are known to have been registered and/or operated in 68 countries throughout the world and also have been based and flown in the Arctic and Antarctic regions.
The MAM's Norseman is currently under restoration and will be painted in the livery of Dominion Skyways, a Montreal based airline from 1930's that the Molson family was involved in. The photo depicts a flying scale model of the aircraft in this livery.